ALTON G. BURKHALTER
Managing Partner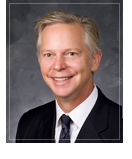 Alton Burkhalter is the founding partner of Burkhalter Kessler Clement & George LLP, a business law firm with roots in Orange County since 1985. Mr. Burkhalter is an AV rated lawyer, the top ranking in ability and ethics by Martindale-Hubbell. He was selected as a Southern California Super Lawyer for Business Litigation in 2007, 2008 and 2009.

Mr. Burkhalter is a seasoned business trial lawyer, as well as a sophisticated transactional attorney. Mr. Burkhalter has successfully prosecuted and defended a wide array of business cases. He has received multiple "8 figure" jury trial awards, as well as several "7 figure" verdicts. In addition to his litigation practice, Mr. Burkhalter handles transactions, such as public offerings, mergers and acquisitions.

Mr. Burkhalter obtained his Bachelor of Science in Accounting, cum laude, from Northwestern State University in his home state of Louisiana. After becoming a Certified Public Accountant with a big five firm, Mr. Burkhalter earned his law degree at Pepperdine University, graduating magna cum laude and ranked fifth in his law school class. He is admitted to practice in California and Arizona.


Email Alton G. Burkhalter
Download v.card